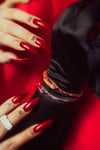 click click! cuff em with our handcuff bracelet. adjustable and features a button for easy release. one size fits most and available in both gold and silver tone. comes in single ($60) or double ($100) in case you want to stack them or match with a bff or lover!
the roses collection --
for all those who've been called sluts, whores and skanks for simply living their best lives. largely inspired by the sex work industry and sex positivity movement, the roses collection was designed to bring out the innermost sexual being in you.
a conn perignon original. all products come safely packaged in a red gloss gift box.

xx